MEET THE TEAM
Fling Seminar Speakers
 
Meet Michael C. Fling, D.D.S. – Cosmetic Dentist in Oklahoma City
 
Dr. Michael Fling is a dentist, an educator, an author and an artist. He says that the secret to his success is "bridging the gap between knowing and doing". He uses this secret to further the success of those around him by inspiring them to excellence.
He began his career in dentistry in 1976 as a laboratory technician. While maintaining a private practice with an emphasis on aesthetic and restorative dentistry, he has served as Course Director and as a Clinical Assistant Professor in the Department of Fixed Prosthodontics at the O.U. College of Dentistry. He now serves as an Associate Professor and the Director in the Department of Advanced Restorative Dentistry. He is the founder and President of Fling Seminars, delivering stimulating advanced dental education and motivation to dental teams and technicians around the world. He has been named by Dentistry Today as one of the "Top Clinicians in Continuing Education" every year since 2005. He serves at the L.D. Pankey Institute as a Essentials Director and is part of a select handful that has completed the process to earn the distinction as a "Pankey Scholar". He also serves as a member of their Board of Advisors. He is a member of the American Academy of Restorative Dentistry. His passion is motivating change to improve the quality of life for those he touches.
---
Kinsey Fling
Kinsey Paige Fling is Dr. Fling's Seminar and Marketing Coordinator. While she is a very artistic person, she also has a love for her horses. Competing since she was a child she continues to compete as a Reining cowgirl. Her previous experience comes from working with the National Reining Horse Association. Kinsey has exceptional talent with great customer service and is a remarkable laboratory technician too.
---
Genevieve Poppe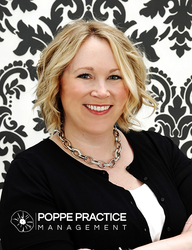 Genevieve Poppe has over 18 years experience in the dental field. Having held many roles within the dental field, her industry expertise is proven by years of success in all aspects of practice operations. In addition to many years of clinical experience and practice management experience, Ms. Poppe has architected and facilitated numerous practice acquisitions, transitions and relocations since she co-founded Stepping Stone Dental Partners in 2009.
This valuable experience has refined her process for practice branding, marketing and developing strong dental teams. In addition to her transition experience, she has thorough knowledge of dental insurance, dental procedures, equipment, industry trends and best practice standards for patient service and care. She is also a certified trainer and coach for All-Star Dental Academy, a service and rapport based online training program.
Ms. Poppe has a unique understanding of what it takes to help dentists achieve their practice vision. She is committed to listening to, understanding, and finding solutions with her clients. She delivers a passion and level of communication that truly set her apart. From practice start up to practice transition, she has the skills and knowledge to implement systems for practice and team success.
---
Jeff Singler, C.D.T.
Jeff Singler began his career as a private technician in 1974 in Dallas, Texas. In 1979 he founded Singler Dental Ceramics, Inc. focusing on complex restorative cases and later implant restorations. He has lectured and consulted on such topics as implant dentistry and ceramics. Jeff has had the privilege of studying with the Pankey Institute, Asami Tanaka, Willi Geller, Klaus Muterthies, Don Cornell and many others willing to share their knowledge and skill.
Jeff also operates Airway Labs, a lab dedicated exclusively to fabricating oral appliances for the treatment of acute snoring and sleep apnea. He currently resides in Dallas, Texas with his two children, Lauren and Dalton.
---
James C. Kessler, B.S., D.D.S.
Dr. Jim Kessler is the Director of Advanced Esthetics and Technologies at the University of Oklahoma College of Dentistry. Jim is a 1977 graduate from the University of Oklahoma College Of Dentistry and after 20 years in private practice, he is now in his fifteenth year in dental education.  Early in his career he taught at the University of Oklahoma and then at the Medical University of South Carolina.  In 1988 he entered private practice in Tulsa, Oklahoma where he spent eighteen years.  In January 2007, Dr. Kessler returned to dental education and has served as the Chair of Restorative Dentistry at the University of Oklahoma College of Dentistry and as the Chairman of the Department of Education at the Pankey Institute for Advanced Dental Education in Key Biscayne, Florida. In September 2012 Jim returned to OU to direct the newly established Advanced Esthetics and Technologies Clinic. Jim was honored as the 2011 Alumnus of the Year for the University of Oklahoma College of Dentistry. Dr. Kessler's primary areas of interest are materials and technologies for the clinical and laboratory fabrication of esthetic ceramic restorations. He has published many articles, as well as contributions to four textbooks, and is an active lecturer for both Dentists and Dental Laboratory Technician groups. He has lectured throughout the United States as well as Canada, Europe and Asia.